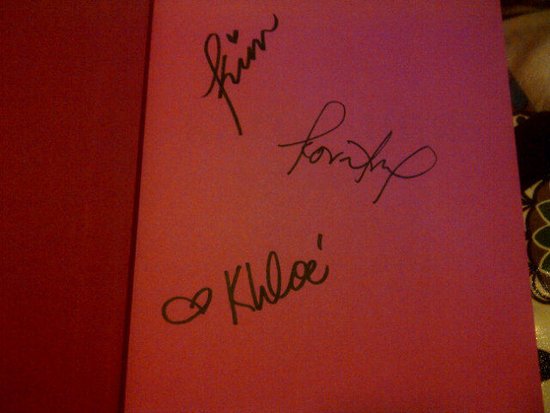 I will be giving away a signed copy of Kardashian Konfidential. ALL YOU HAVE TO DO IS ANSWER MY KARDASHIAN QUESTIONS CORRECTLY AND POST YOUR ANSWERS IN THE KOMMENT SECTION OF MY BLOG.....
I am relaunching my Kardashian Konfidential Kontest today because last time it didn't go to well. So now am launching it with all new questions and this time its going to be all three questions and its open to all KarFans. Only 1 entry allowed and there is NO PURCHASE NECESSARY... A winner will be chosen at random and will be notified via twitter or email....
A WINNER WILL BE CHOSEN AT RANDOM...THIS IS A FREE FREE FREE KONTEST, ALL YOU HAVE TO DO IS ANSWER ALL 3 QUESTIONS CORRECTLY.... ALL KLUES THAT IS ANSWERED KORRECTLY, A WINNER WILL BE CHOSEN AT RANDOM. ALL KLUES WILL BE KARDASHIAN INSPIRED.
THERE WILL BE 3 QUESTIONS TOTAL... MORE THAN ONE POSTED ANSWERS WILL BE DISQUALIFIED....PLEASE PROVIDE A TWITTER NAME OR EMAIL WITH EACH ENTRY WHERE YOU KAN BE KONTACTED.... THE WINNER WILL BE ANNOUNCED VIA
TWITTER.COM/NUXEY
.. KONTEST IS OPEN TO ALL..... NO PURCHASE NECESSARY..
HERE IS THE K-QUIZ
1. WHAT IS THE NAME OF KHLOE AND LAMAR NEW UNISEX PERFUME?
2. WHAT DID KIM SAY SHE DOES TO HER JEWELRY BEFORE SHE WEAR IT AND WHY?
3. HOW MANY DASH LOCATIONS ARE THERE AND WHERE? BE SPECIFIC.
BONUS!!!!! HOW MANY BIOLOGICAL SIBLINGS DO KOURTNEY, KIM, AND KHLOE HAVE FROM THEIR MOM AND DAD? HINT: LOOKING FOR NAMES OR NAME
PLEASE EMAIL ANSWERS TO RCHDORK@GMAIL.COM.
GOOD LUCK!!!!!!